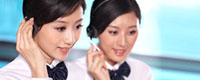 Name: Hill Chan
Tel: +86-755-8959 2948
Mobile: +86-017825473498
E-mail: sales@wemakegifts.com
Add: #16 XinHe Road, PingShan Area, Shenzhen City ,GuangDong Province, China. Zip Code : 518118


WEMAKE GIFTS (SHENZHEN) CO.,LTD. is an experienced manufacturer and exporter in all kinds of car bows, decorative ribbons, decorative bows, paper raffia, table confetti, bow ties and gift bags etc. Founded in 2005, we have established business relationships with all over the world, America, Australia, New zealand, South Africa, especially in Europe.
The following items are our main products for your reference:
1: Car Bow: Magnetic vinyl car bow, Velvet car bow, PVC car bow etc.
2: Bow Tie: Velvet bow tie, satin bow tie, woven ribbon bow tie, stretch loop bow, stretch loop bow tie etc.
3: Gift bow: Star bow, Curly bow, Pull bow, Fancy bow etc.
4: Gift ribbon: PP ribbon, Metallic ribbon, Lacquer ribbon, Holo ribbon, Crimped ribbon, Embossed ribbon, Woven ribbon etc.
5: Gift cord: Elastic cord, Twine cord, Metallic Cord, Multi color cord etc.
6: Gift bag: Organza bag, Satin bag, Velvet bag, Jute bag etc.
7: Paper raffia: Paper raffia ribbon, paper raffia cord, wired paper raffia cord, paper raffia bow, Paper shred etc.
8: Table confetti: Xmas confetti, Party confetti etc.
9: Candy Cane: Tinsel candy cane in different color.
10: Mesh tubing ribbon and bow: Mesh tubing ribbon, mesh tubing bow.
We provide OEM services: Customers' designs are welcome.